Good afternoon everyone, I hope your weekend is going well.  During my recent App-O-Rama, I was instantly approved for the Avianca Vuela Credit Card.  The standard offer is only 40,000 LifeMiles, but if you use promo code AVSPWE, you will get an extra 20,000 LifeMiles.  To get the 60,000 LifeMiles, you just need to make 1 purchase and pay the $149 annual fee (not waived).  Doctor of Credit has a full review of the credit card.
During the application process, remember to enter the promo code AVSPWE on the Financial Information section, underneath the gross annual income boxes.
I have quite a few credit cards open, but I got a pretty generous credit limit for a credit card that only requires 1 purchase.
I was instantly approved for the credit card on Tuesday December 6 and I received the credit card in the mail on Friday December 16.  I can't remember where the card was mailed from since I already shredded the letter.  Does anyone know?  It is hard to tell from the image, but on the front of the card is the Earth and all the little circles/dots are cities that Avianca flies to.
After I received credit card, I went to the Popular Credit Services website (the online account provider for the credit card) and created an online account.  During the process, I thought I activated the credit card because I had to enter the card information into the website.  After creating my account, I was able to log in and see my card details.
I tried several times to reload my Amazon gift card balance with $5 using my new Avianca Vuela Credit Card, but every time I would submit an order, I would get an email that the reload was declined.  After failing 4 times, I called the number on the back of the Avianca Vuela Credit Card to see what was going on.  The rep was very helpful and said that my credit card was not fully activated, even though I activated it online.  She stated that there has been some issues lately with online card activations.  I then asked the rep to verify that the promo code was successfully added to my application.  The rep put me on hold for 2-3 minutes to look at my application.  In the meantime, I successfully reloaded $5 to my Amazon gift card balance using my new Avianca Vuela Credit Card.  Moments later, the rep confirmed that the promo was added to my application and that I would get 60,000 miles after making my first purchase.
I logged into my Avianca Vuela Credit Card online account again.  The $149 annual fee and the $5 pending charge on Amazon were both shown.
As soon as my next statement closes, I should have 60,005 Avianca LifeMiles in my account.  I just need to figure out where to go.  Here is a snippet of their award chart (full page here).  Are there any sweet spots on their award chart?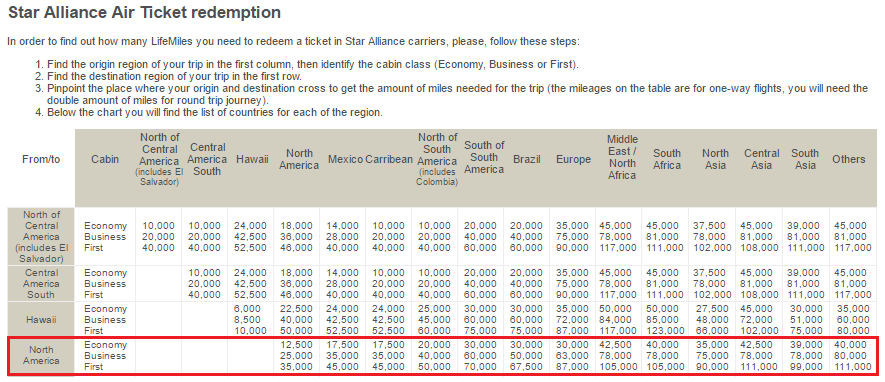 If you have any questions, please leave a comment below.  Have a great day everyone!