If you are like me (an eBay PowerSeller) or someone who hates going to the post office to pay for postage, your life is about to get much easier.  Assuming you have a PayPal account, you can print US Postal Service (USPS) and UPS shipping labels at home, from your own printer, and pay with your credit card or PayPal balance.  Here is how.  You must click this link (better yet, bookmark it too) and log into your PayPal Account.
By default, USPS shows up, but you can easily change that to UPS (scroll down a few pics).  Enter the shipping address I want to ship to.  You can enter the recipient's email address, if you want.  You will always get a confirmation email after you print/purchase a shipping label.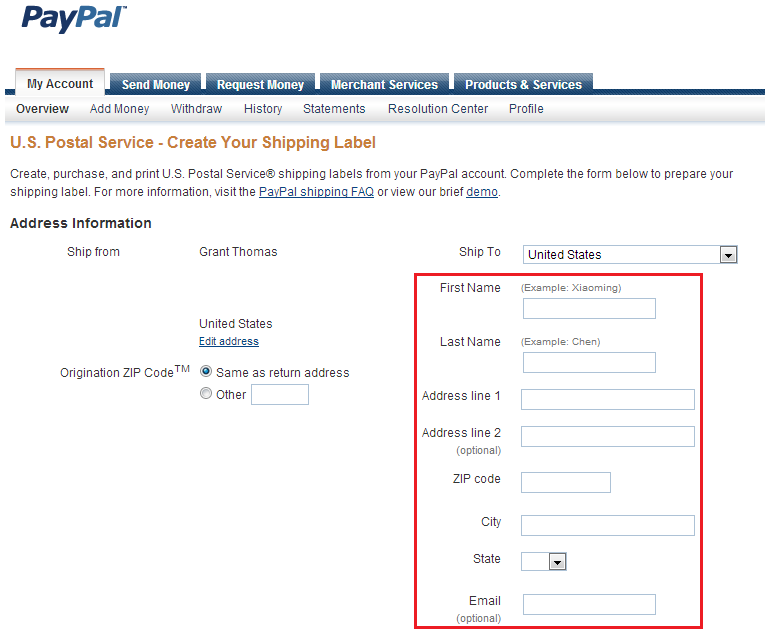 Now the important part.  How fast do you want your package to be delivered?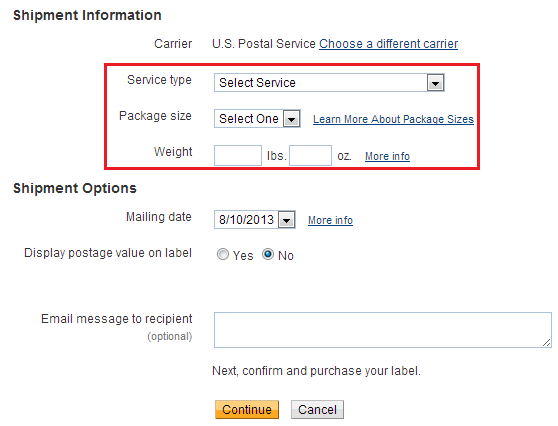 If your package weighs less than 13 ounces, I would recommend USPS First Class Mail.  If you are shipping any type of book or media item, select USPS Media Mail.  If you are shipping a heavy item that does not need to be delivered quickly, I would select USPS Parcel Post (Parcel Select Nonpresort).  Chose USPS Priority Mail if you want your item to be delivered quicker than USPS Parcel Post (costs more the heavier the package and the farther the trip).  USPS Express Mail (Priority Mail Express) is the next day air or second day air equivalent and costs a lot of money.
Assuming you select USPS Priority Mail, you need to choose your package size.  If you are using a US Postal Service provided box or envelope, make sure to select the correct package.  Flat Rate Envelope is the cheapest if you can fit your item in the envelope.  Small Flat Rate Box is the second cheapest.  Medium Flat Rate box is probably the best deal since it is the size of a show box.  If you are using your own packaging, select Package/Thick Envelope.
All USPS shipments come with free Delivery Confirmation (like a tracking number, but only tells you that the package was delivered).  Signature Confirmation is recommended for all items that you want a signature to be delivered.  It costs $2.20 extra.  You can choose to display postage value. but I always select No.  If you want to purchase insurance, click yes and enter the insurance amount.  I would also recommend getting Signature Confirmation if you decide to purchase insurance.
On the next page, you can verify the shipping address and see the final cost of your package.  You can change the payment source as well.  By default, if you have a positive PayPal balance, that will be how you can pay for the postage.
If you want to change your payment method, click More Funding Options and you can select from the choices give.  I am assuming you don't have a PayPal Extras MasterCard, so you can choose between a PayPal Balance or a credit card.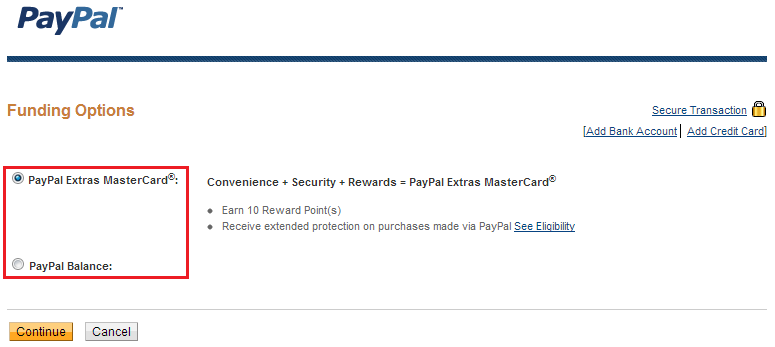 Print UPS Labels Instead
If you want to ship via UPS instead of UPS, find the Chose a different shipping carrier link below Shipment Information on the first screen.
Select the box for UPS and click Continue.  If you prefer UPS, you can select the box to make UPS your default shipping carrier.  Sorry, no FedEx or DHL shipping through PayPal.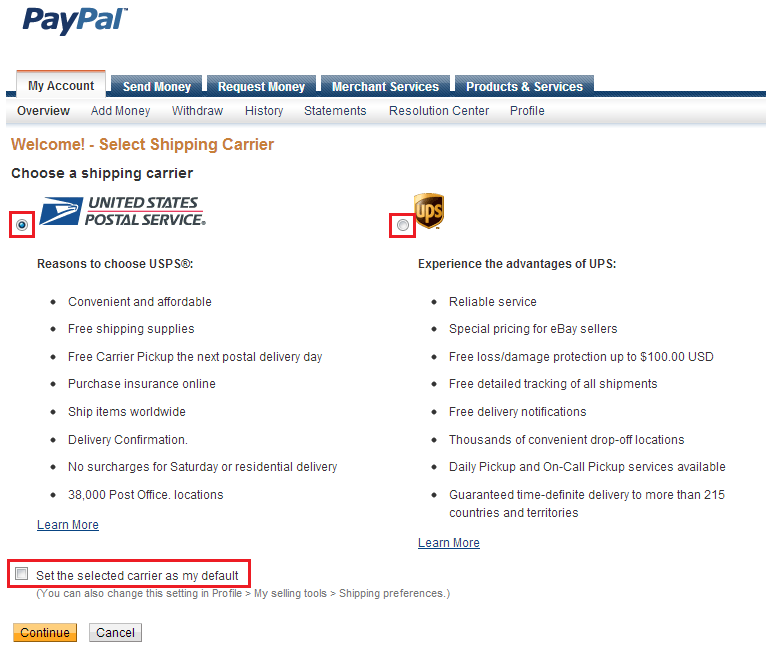 If you are shipping a package to a business (great for returning items to Amazon), make sure to select Business (will save you a few bucks).  Enter the shipping address (sorry, no PO boxes).
Here you can choose the shipping option you want.  The cheapest option is UPS Ground while the most expensive option is Next Day Air.
Assuming you select UPS Ground, enter the package weight (rounded up to the next whole pound) and enter the package dimensions.  All UPS packages come with $100 of free insurance, which is great.  If you want more insurance, enter the value in the Declared Value box.  Signature Confirmation is recommended for expensive items.  Select no Saturday Delivery, that costs extra.
Confirm the shipping address and all the shipping details.  UPS Ground is great for heavy items, especially shipping short distances.  A 10 pound box only costs $11.49 to ship.  There is no option to change the payment method for me, so I have to use my PayPal balance.
Just click pay and continue to print your shipping label.
Which is cheaper: USPS or UPS?
This is another trick.  You can use Ebay's shipping calculator to compare all USPS and UPS shipping options.  Go to this link (probably a good thing to bookmark as well), select the package's weight and package type.  The best package type is Package (or Thick Envelope).  If you have a big box, enter the shipping dimensions.
Now you can enter your zip code and the recipient's zip code.  If you want a general shipping price, select Sample Rates and click Show Rates.
Here is a comparison of all the shipping options available from both USPS and UPS.  Like I said earlier, UPS Ground is the cheapest and all UPS rates depend on distance.  Since I am about 40 miles from Los Angeles, shipping a package there is cheap.  If I was shipping to the east coast, like New York, shipping would cost more.
Over to the USPS side, all the Flat Rate options are the same price, regardless of distance (that's what Flat Rate means).  If you scroll down to the USPS Priority Mail box, you can see how much price changes.  Ranging from $7.24 to Los Angeles all the way to $18.70 for New York.
So if I was shipping a package to Los Angeles, I would go with USPS Priority Mail.  If I was shipping a package to New York, I would go with UPS Ground.  This is why this calculator is awesome.
If you have any questions, please leave a comment below.  Have a great day everyone!