Updated 4/11/2016 at 10pm PT: I included an update to the Westin Vacation Package below.
Good afternoon everyone.  Since I am a Chase Hyatt Credit Card holder, Hyatt sent out the following mailing to me for $30 food and beverage credit that can be used at participating Hyatt House and Hyatt Place hotels from April 1 through July 31, 2016.  If you are a Chase Hyatt Credit Card holder, you should receive this mailing soon.  If you still haven't received the mailing after a week, I would call Chase and ask them to send you the mailing.
One of my favorite quotes is, "Big text giveth, small text taketh away."  I don't know which famous Greek philosopher said that, but it is so true.  Anyway, this $30 food and beverage credit can only be used in the US, it cannot be used on alcoholic purchases (boo!) and it can only be used toward one meal during your stay.  You cannot use the credit to pay for two separate meals.
In other hotel news, I received a timeshare Westin Vacation Package letter inviting me to stay at the beautiful Westin Ka'anapali Ocean Resort Villas on Maui.
Here is the front and back of the letter that spells out all the terms and conditions.  The cost is $798 and must be paid for with any American Express credit or charge card.  With your Westin Vacation Package, you can have a total of 2 adults and 2 children spend 6 days / 5 nights, you will receive a $75 resort credit and a 6 day Avis car rental during your stay.
The small print on the back of the letter does not mention a timeshare presentation or have any requirements to participate in the offer other than the fact that only the person addressed on this letter (me) can redeem this offer.  I am honestly considering this offer since I will most likely go to Maui before May 31, 2017.  If you are interested in this Westin Vacation Package, you can try calling the number listed below and see if you are eligible to participate in the offer.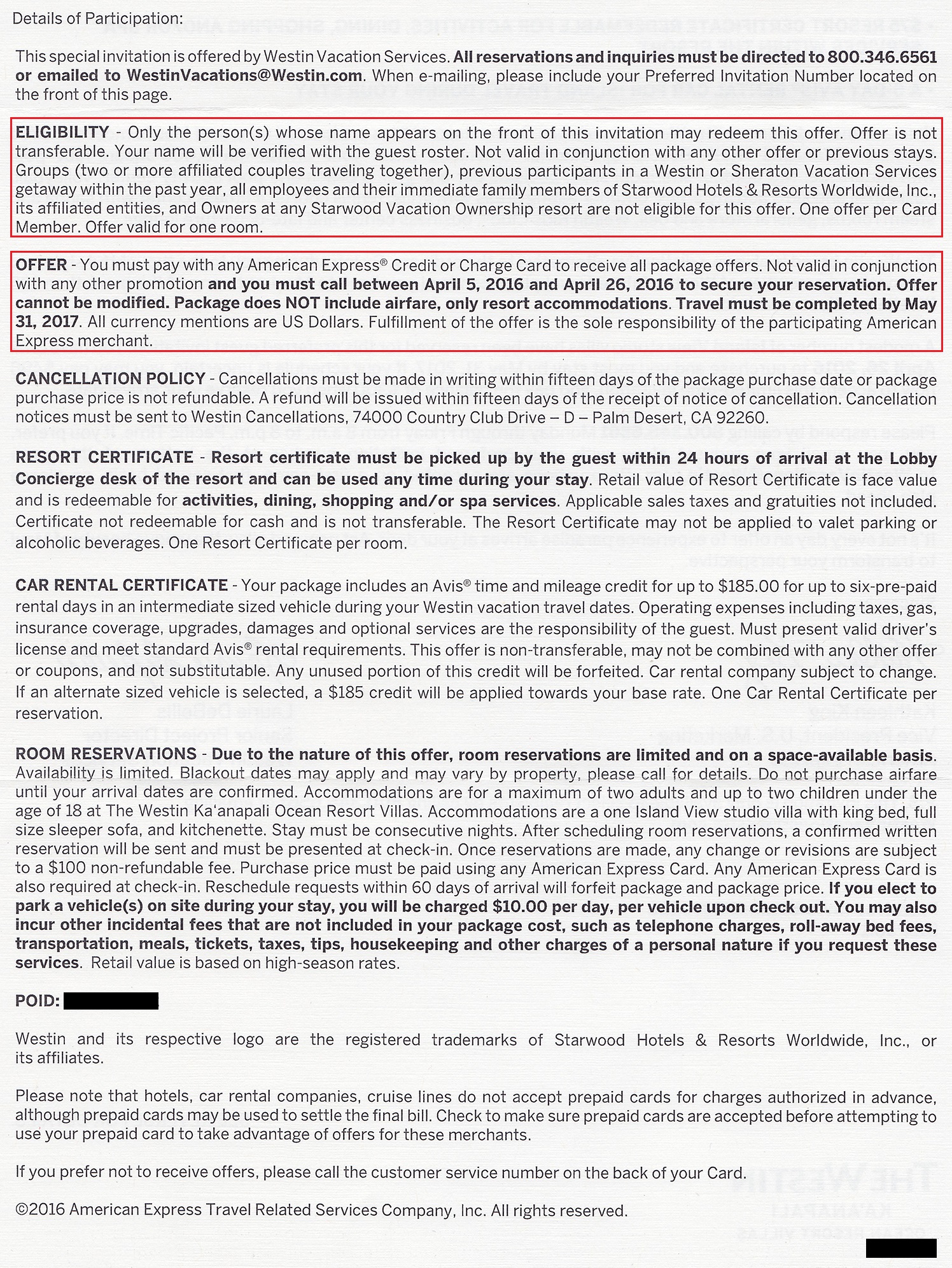 Update:
I called the phone number listed on the Westin Vacation Package letter and asked a few questions:
Q: Is this related to a timeshare presentation? A: No, there is no timeshare presentation required.

Are there hotel resort fees? A: No, there are only fees for parking at the hotel ($10/day) and taxes on the rental car (~$75).

Q: Can I check in/out any day during the week? A: Yes, you can check in on any day of the week and check out any day of the week 6 days later.

Q: How far in advance do I need to book? A: Space is limited, so they recommend calling 60+ days in advance of when you want to attend.

Q: When do I book airfare? A: After your reservation dates have been accepted and you receive a confirmation of your dates, then you can plan and purchase airfare.
After the agent answered all of my questions, I felt pretty confident moving forward.  I paid the $498 for the down payment toward the vacation package.  When I request my travel dates, I need to pay the remaining $300 to complete the booking.
If you have any questions about the $30 food/drink credit or the Westin Vacation Package, please leave a comment below.  Have a great weekend everyone!