Good afternoon everyone, I hope your week is going well.  I just received this email from Barclays regarding a referral program that is available to Barclays Wyndham Rewards credit card members (only personal credit cards are currently eligible, no business cards yet).  You can refer friends to the Barclays Wyndham Rewards Earner Credit Card (no annual fee) and Barclays Wyndham Rewards Earner Plus Credit Card ($75 annual fee).  If they apply and are approved before June 30, you will receive 15,000 Wyndham Rewards Points per referral, with a 45,000 point yearly cap.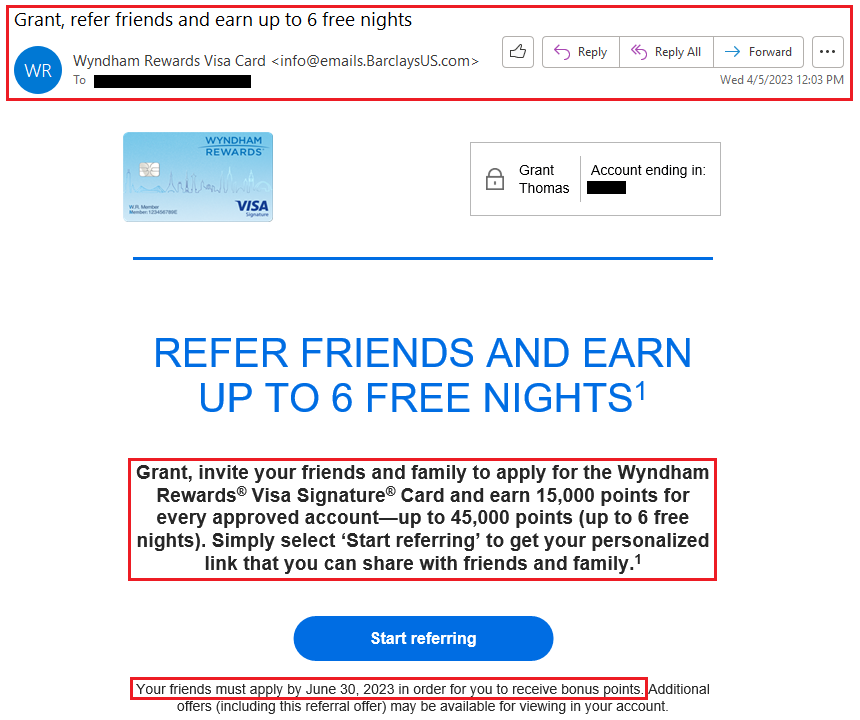 Here are the complete terms from the bottom of the email.  Please note that it will take 6-8 weeks after June 30 for any referral points to post to your Wyndham Rewards account and you may receive a 1099-MISC tax form.
1Existing Wyndham Rewards Visa Signature Card cardmembers will receive 15,000 points for up to 3 friends who apply for a Wyndham Rewards Visa Signature Card using the personalized referral link by June 30, 2023 ("Promotion End Date") and are approved. A maximum of 45,000 points can be earned through this offer per calendar year. To be eligible to receive bonus points, the cardmember's account must be open, active and in good standing until points are awarded. Bonus points may take up to 6-8 weeks from June 30, 2023 to appear on your statement.
This offer is available only to applicants who are residents of the United States, with the exception of the US territories. Cardmembers understand and agree that any individuals referred must be a new customer and must apply through the personalized link shared through social media or text message for you to receive the points. By sending this link via text message, you are confirming that you as an existing cardmember have consent to send text messages to each recipient. Due to the confidential nature of the credit approval process, cardmembers will not be notified of application status, or whether we approve or decline any application(s) from any individual(s) you refer. Only the cardmember intended to receive this email will receive points. Points will not be awarded on any application that results from a forwarded email. We reserve the right to alter, change or terminate the referral program at any time without notice. The total rewards you may earn from all programs and/or offers from Barclays associated with any product(s) you may have (including but not limited to, Barclays credit card(s), personal loan(s) and deposit account(s)) may qualify as miscellaneous income and could require Barclays to send you a Form 1099-MISC (Miscellaneous Income) and file it with the IRS for the year in which you participate and are awarded rewards from any program(s). The cardmember is responsible for any applicable taxes or tax liability; if you have any questions regarding the contents of Form 1099-MISC or how it may affect your taxes, please consult with a personal tax advisor. We reserve the right to disqualify or terminate any cardmember from participation in the referral program in the event of fraud, abuse of program privileges, or violation of the Terms as determined at our discretion, which may result in the forfeiture of any accumulated referral bonuses. Account closure or suspension may result in the loss of any referral bonuses that haven't been applied to your account.
2Please log in to your account to view your Reward Rules for more information about the rewards associated with your account.
3Please refer to your Cardmember Agreement as amended from time to time for pricing, rates, fees and other terms of your account.
I clicked the link in the email and then signed into my Barclays online account.  I then went to the Offers tab and saw the referral offer.  I then clicked the Select Offer link.
Here is where your custom referral link will be.  If you are interested, here is my referral link.  Thank you for using my referral link.
The referral link landing page shows a 45,000 point sign up bonus for the Barclays Wyndham Rewards Earner Credit Card (no annual fee) and 75,000 point sign up bonus for the Barclays Wyndham Rewards Earner Plus Credit Card ($75 annual fee).  Both offers require spending $1,000 in 3 months.
The standard offer is only 30,000 points for the no annual fee card and 45,000 points for the $75 annual fee card.  Both offers require spending $1,000 in 3 months.  Therefore, the referral offers are much better than the current standard offers.
I am hoping this referral program gets rolled out to the Barclays Wyndham Rewards Earner Business Credit Card, since I think that is the best Wyndham Rewards credit card available.  I am a big fan of Wyndham Rewards Points because I love booking Vacasa Vacation Rentals.  If you have any questions about this referral program, about the credit cards, or about Wyndham Rewards, please leave a comment below.  Have a great day everyone!