Good morning everyone.  A few days ago, my Chase Sapphire Reserve Credit Card statement closed and I ended up with a credit balance of $349.34 because I redeemed 1/3 of my Chase Ultimate Rewards Points for several Pay Yourself Back transactions.  I called Chase to see if I could move the credit balance from my Chase Sapphire Reserve to another Chase credit card (to act as a payment), but the rep said that the Pay Yourself Back transactions were not eligible to be moved to another Chase credit card.  She then asked if I would like to receive a check in the mail for the credit balance.  Before I said yes, I asked if it were possible to get a bank transfer instead.  She said yes – Chase recently started offering bank transfers for credit balances.  She told me I would receive an email from Chase in the next day with instructions on how to set up my Chase Payments account and receive a bank transfer.  I thanked her for her help and waited for the email to arrive.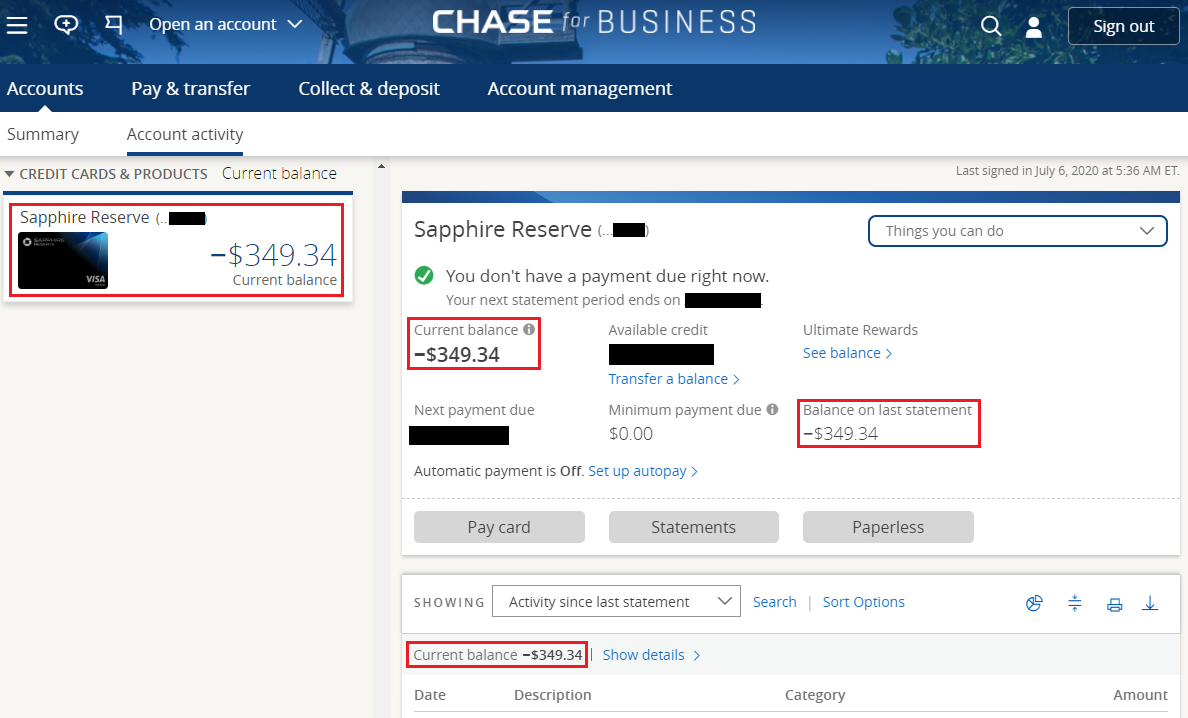 A few hours later (at 12:37am PT), I received the following email from Chase.  If I set up my Chase Payments account before July 11, I could receive my credit balance via bank transfer.  If I did not set up my Chase Payments account by that date, I would receive a check in the mail.  I clicked the Accept Money button to get started.
I then set up my Chase Payments account by filling in my phone number, password, security questions, agreed to the terms and conditions, and clicked the Sign Up button.
Once I was in my Chase Payments account, I saw that there was a payment of $349.34 waiting for me.  I then clicked on the View Payment Details link.
After reviewing the payment details, I then clicked the Transfer to Bank Account button.
I entered my checking account routing number, account number, and clicked the Submit button.
I confirmed the checking account details and clicked the Confirm and Transfer button.
My payment was processed and I should receive the $349.34 in my checking account in the next 1-3 business days.
There were no more payments in my Chase Payments account, but I went to the Payment History section to review the payment.
My recent payment was processed successfully and I clicked the > button to view the payment details.
The payment details were correct and now I needed to wait for the payment to arrive.
Shortly after completing the payment process, I received a confirmation email from Chase.
Later that day, I logged into my Chase online account and saw that my Chase Sapphire Reserve balance was back to $0 and there was a Credit Balance Refund transaction for $349.34.
The next day, I received the $349.34 payment from Chase in my checking account.  The whole process was very simple, easy, and quick.  Since my Chase Payments account is already set up, receiving future payments from Chase should be very easy.  If you have any questions about the Chase Payments process, please leave a comment below.  Have a great day everyone!