Good morning everyone, happy Friday!  Yesterday, I wrote Hilton Timeshare Vacation Package Deals: $299 for 4 Night Stay + 150,000 HH Points (7 Destinations Available) [Expires January 10].  Today, I have a targeted timeshare vacation package offer at the Westin Princeville Ocean Resort Villas on the north shore of Kauai.  The cost is $799 for a 5 Night / 6 Day stay, plus you have your choice of 15,000 Marriott Bonvoy Points or a $75 resort credit.  15K points is worth $100 to me, so that brings the cost to ~$140 / night.  You do need to attend a 2 hour timeshare sales presentation, but that seems like a pretty good deal for a great property in Hawaii.  I have experience with timeshare sales presentations and they are not too bad.  I will go through the booking process to show you what it is like, what is included, and how much it costs.
Here is the letter I received and here is the link to the landing page.  Unfortunately, this offer is only available if you received a targeted email or letter with a personalize code.  You might be able to call in and see if you are eligible at 1-855-762-0111.
Here is the back side of the letter with the complete terms and conditions: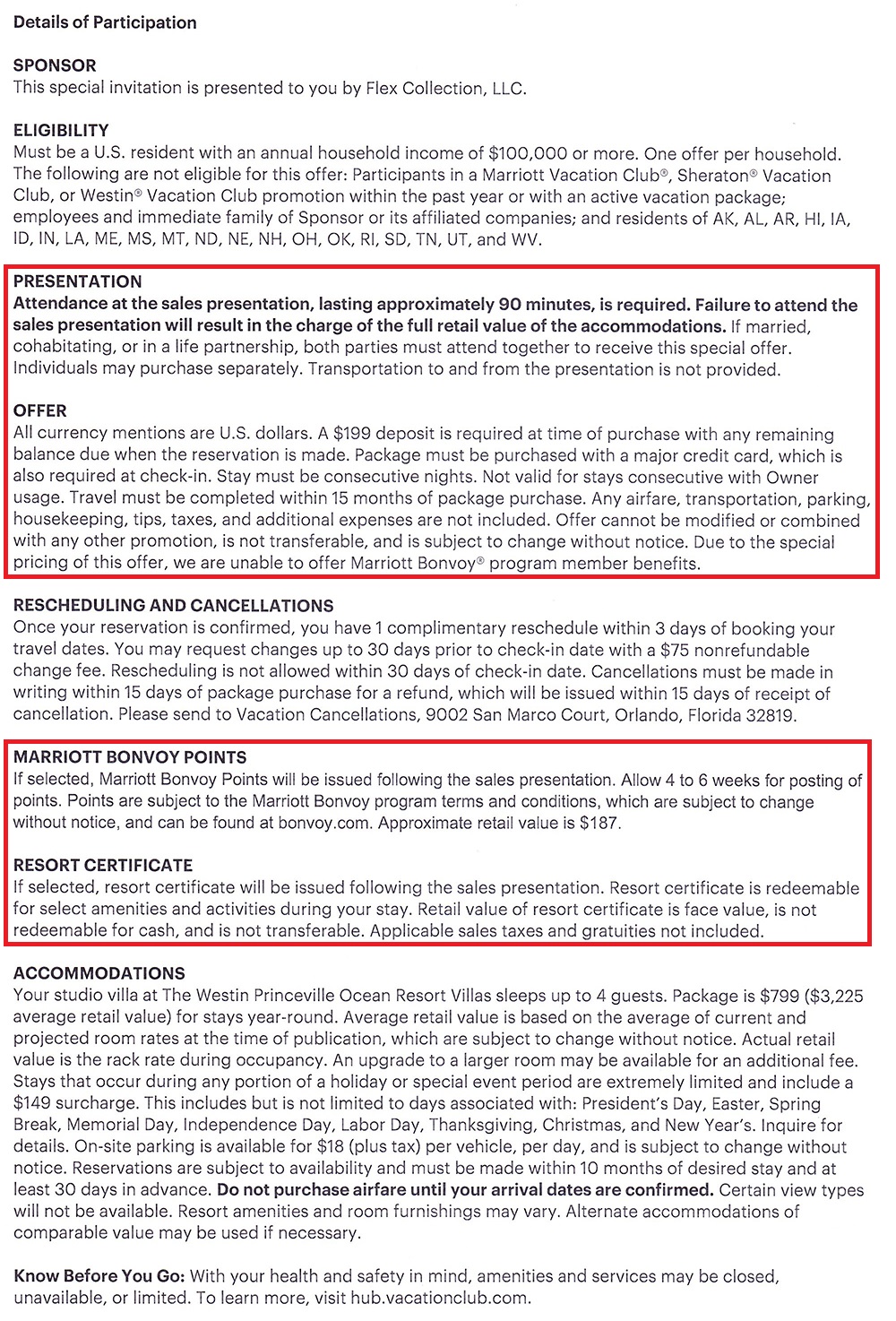 The Westin Vacation Club is part of Vistana and you can request info here.  That should get you into the Vistana email database and you should receive an email about future timeshare vacation package opportunities, or you can try calling Vistana directly at 1-888-847-2613 and seeing what is available.
If you received the targeted letter, here is the link to the landing page.  Fill in your PIN (from the letter) and last name, then click the Find My Offer button.
Verify the contact info is correct and click the See My Offer button.
Select the resort to see the room options available.
Once you select the property, you will see 2 different accommodations: Guestroom ($799 per stay) or One Bedroom Villa ($1,048 per stay). Both require a $199 non-refundable deposit.  Remember, Marriott elite status doesn't get you anything at timeshare properties or on timeshare vacation packages, so don't expect any upgrades or freebies during your stay.
You cannot select the dates online, but you can call 1-855-762-0111 to select dates after you pay the $199 non-refundable deposit.  Here is the details of participation screen that you need to agree to.
Fill in your contact information and then you will see the payment section beneath that.  I don't believe you will earn bonus points if you pay with a Marriott credit card.
I am going to pass on this timeshare vacation package since I am taking a break from visiting Hawaii (I stayed on all of the Hawaiian Islands over the last 2 years), but if you are looking for a great resort in Kauai, this is a great property.
Just remember to stick to your guns and say no at the timeshare sales presentation.  I find them to be mostly interesting, with a scattering of white lies and half truths sprinkled in.  If you are familiar with the Marriott Bonvoy program, you will probably be able to spot them from a mile away and don't be surprised if you know more about the programs than the timeshare sales people.  One of my favorite things to do is call out their exaggerated points prices when the sales people say Marriott points are worth 2 cents or more (ya right!).   If you have any questions about the timeshare vacation packages or attending a timeshare sales presentation, please leave a comment below.  Have a great day everyone!